Keeping RV Insurance During The Off-Season
Keeping RV Insurance During The Off-Season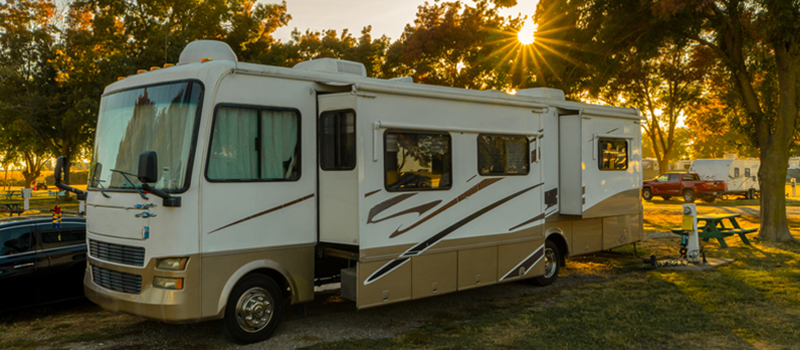 Keeping RV Insurance During The Off-Season
Claims Can Occur at Any Time of Year
Although it might seem like an unnecessary additional cost to keep coverage on your RV when it's not in use during the off-season, planning ahead for unexpected damage by keeping insurance coverage on your RV is always a safe bet. Here are a few scenarios where additional coverage might be important:
Even if your RV is being stored in a secure place, theft and vandalism are always a possibility. In the event this occurs, not having protection can result in very expensive repair costs, which you'll be responsible to pay for.
If you're storing your RV outdoors, catastrophic events like flooding, hail damage or damage from a fallen tree or branches can result in expensive repair costs, which you'll want to have coverage to help cover.
If you're storing your RV in an indoor setting, like a garage, you are not immune from damage either. If your garage catches fire and burns your RV, it's unlikely that your homeowners insurance policy will cover the damage to the vehicle.
Additional Coverage Options
Although keeping coverage on your vehicle might be a safe choice, you do have some other options, aside from retaining the full level of coverage that you would need during the months when you travel most. In some cases, you can carry what is known as storage-only insurance, or Storage Option, on your RV. Storage-only insurance covers your RV in the event that damage occurs as a result of things like theft, vandalism, damage from animals, weather or falling objects. This will not cover any damage that results from a collision from another vehicle, but if you're planning to store your RV for an extended period, this might be an option for you.
One thing to keep in mind: if you're storing your RV in a facility, chances are that it's stored near numerous other RVs, boats or large vehicles. When individuals are moving large vehicles, the risk of another vehicle colliding with yours increases significantly. If you aren't carrying collision insurance on your RV, there's a good chance that damage to your RV might not be covered. You'll want to carefully consider the space you're using to store your vehicle in order to make sure you have the right protection.
Get the Coverage That's Right for You
Whether you're looking to save some money in the off-season or just want to make sure you have enough coverage to protect your significant RV investment, reach out to your local agent. Their extensive insurance knowledge will help you get the right coverage to protect any vehicle, whether it's your RV, trailer, camper or automobile!