Riding Your Motorcycle Safely in a Group
Riding Your Motorcycle Safely in a Group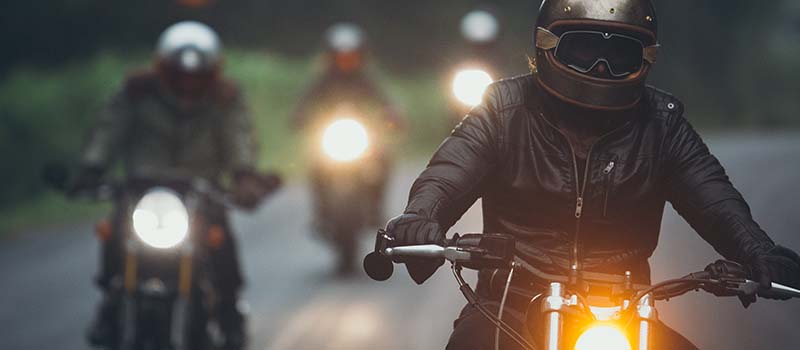 Riding Your Motorcycle Safely in a Group
Plan your ride in advance and communicate the plan with your group. Figure out how far you're going, where you're planning to stop for breaks and other details. Be sure that everyone has everything they need, like a full tank of gas, appropriate safety gear and any other trip-related necessities. Figure out a plan for the order in which you plan to ride. Generally, it's best to put the most experienced rider in the front, with the least experienced rider behind the leader. The leader will determine the pace, as well as alert everyone else in the group of road hazards and other potential obstacles. If possible, plan to use hand signals to help you communicate with your group during your ride.
Be safe on the road and stick to your formation. Maintain enough space between your bikes to make sure that you're not tailgating, but also stay close enough together so that motorists can tell you are riding together as a group. The most effective way to ride is by staggering your bikes. For example, if the leader is on the right side of the lane, the rider behind them will be on the left side, and so on. Stay in formation whenever possible, taking into consideration that you may need to ride single-file on curvy or rough roads. When your group is passing other vehicles, they should pass one at a time, returning to the staggered formation as soon as possible.
Don't be in a hurry. Good planning for your ride includes adequate time for rest stops along the way. You can always plan breaks around scenic overlooks or other points of interest, in addition to rest areas. If you're able to stop for appropriate breaks, you'll stay more alert and will be less likely to make mistakes on the road, which is safer for everyone in the group (as well as other drivers).
Plan accordingly for weather. Ideally, you'll plan a ride during favorable weather. But if you encounter inclement weather unexpectedly, don't panic. If your group encounters severe weather, don't be afraid to stop at a covered, safe area if needed, until the danger has passed. Trying to hurry to avoid bad weather can result in careless mistakes on the road, so take your time to drive safely, no matter what.
If you are curious whether your current motorcycle coverage is adequate for your situation, or if you are planning a longer ride and want to make sure your bike is protected, feel free to reach out to your local agent for more information. They are available to answer all of your coverage questions, and will help you get the protection you need whenever you hit the road.