RV Insurance For Full-Timers
RV Insurance For Full-Timers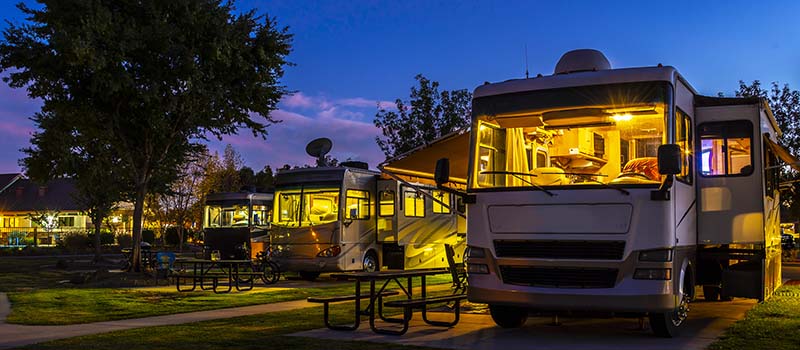 RV Insurance For Full-Timers
Assess Your Needs
In general, full-time RV insurance (sometimes referred to as Full-timers Coverage) is ideal for people who use their RV as their permanent residence, which usually means that they live in their RV for more than six months out of the year. If you don't meet this criteria, you may want to carefully consider whether this coverage is right for you, as it generally costs more than a recreational policy (which is usually purchased by those individuals who use their RVs for vacations or frequent trips), and you may not even be eligible to purchase it if you don't meet this requirement.
Full-time RV insurance offers broader liability coverages, which protect you and your vehicle for a longer period of the year, in addition to offering more substantial protection. These coverages may include the following:
Medical payment coverage – covers medical expenses for those who are injured while in your RV or near it.
Personal liability coverage – covers injuries and property damage that you are held responsible for as a result of an accident that occurs when your vehicle is parked.
Loss assessment coverage – covers fees charged by an association to pay for repairs to other parts of the property (including common areas) where your RV is parked.
Protecting Your Property
In many cases, your RV is covered under your RV insurance policy, and your personal property inside the RV would be covered under your home insurance policy. If you have recently sold your home and converted to a full-time RV residence, you'll want to be sure that all of your personal belongings are covered in the event that disaster strikes. Adding personal property coverage to your policy, if it's not already included, may be a safe bet for you.
Check with Your Local Agent
Getting the right protection for a full-time RV lifestyle is essential, regardless of where you plan to travel. The best way to make sure you have enough coverage for your lifestyle is to get in touch with your local agent. Be sure to provide detailed information to your agent, including where you plan to park your RV, what personal property and RV accessories you plan to cover and who would be residing there with you. All of these important details will help your agent to get you enough protection for your significant investment.